GES Kindergarten Registration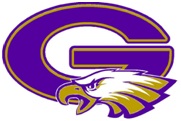 ---
GES is hosting Kindergarten Registration for the 2020-2021 School Year!
WHEN: June 8 - 10th from 8:00am until 4:00pm daily
WHERE: GES Library
WHAT TO BRING: Child's birth certificate, immunization record, social security card, and 2 proofs of residence. Please copy your documents if possible and bring originals for staff to verify.
SPECIAL INSTRUCTIONS: Due to restrictions with COVID-19 which includes 6 foot social distancing we will only be able to serve 9 parents at a time. Parents should wear masks, hand sanitizer will be available entering and exiting the library.
ONLY PARENTS WILL BE ALLOWED IN THE BUILDING AS THE PRESENT ORDER FROM THE STATE DOES NOT ALLOW ELEMENTARY STUDENTS IN THE BUILDING.
Pre-K Parents: We would also like for the parents of the 18 selected pre-k students to complete an enrollment packet and bring the same documents as above. You will be directed to a separate room to complete paperwork.
Please call the school if you need assistance at 334-566-1851 or email Mrs. Corley at wcorley@pikecountyschools.com