Courses Taught:
Data Base / Information Technology Fundamentals, Data Base Design I, Data Base Design II, Data Base Design III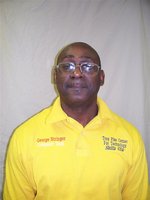 Mr. Stringer was born in Brantley, Alabama where he graduated high school. He joined the United States Army ten months later. Mr. Stringer has served our country at Red Stone Arsenal, Huntsville, Alabama; Fort Bliss, El Paso, Texas; Korea; Bosnia; and spent over 12 years in Germany. He completed his military career as an Intelligence Security Supervisor with a rank of First Sergeant.
Mr. Stringer has been teaching at Troy Pike Center for Technology since his military retirement in 1999. Mr. Stringer is certified in the areas of: Network +, A+ Certification, IC3 Certification, and CAT III Certification. Mr. Stringer has obtained a B.S. in Management from the University of Maryland and an Associate's Degree in Electronics Technology from El Paso Community College.
Mr. Stringer is married to Palma Stringer who is also a teacher certified in special education and reading. They have two sons, George Austin and Charles Edward. Mr. Stringers' wife and sons attend his alma mater, Brantley High School.

First Term:
1st Block - Information Technology Fundamentals/Database II
2nd Block - Information Technology Fundamentals/Database II
3rd Block - Information Technology Fundamentals/Database II
4th Block - Information Technology Fundamentals/Database II
2nd Term:
1st Block - Database I/ Database III
2nd Block -Database I/ Database III
3rd Block - Database I/ Database III
4th Block - Database I/ Database III